Windows of Opportunity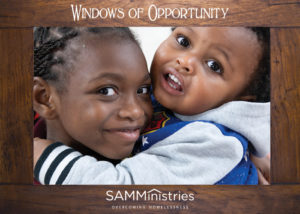 Children who experience childhood stress, including homelessness, are likely to struggle in school, have behavior issues, and be at higher risk of increased illnesses and emotional problems. As adults, these same children are more likely to have health challenges, engage in risky behavior, and be unemployed or underemployed.
The Campaign to End Child Homelessness works to ensure that each child at SAMMinistries' Transitional Living and Learning Center can achieve his or her full potential. By providing focused, personalized support in a comprehensive, holistic, and integrated manner, every child has the opportunity to succeed. The Campaign to End Child Homelessness affords these at-risk children a window of opportunity that cannot be missed!
Your gift of $30 provides safe, secure shelter for a child for one night.
Your gift of $182  provides one month of education and enrichment that helps build the foundation a child needs to break the cycle of homelessness.
Your gift of $346 provides one month of healthcare access and wellness interventions that support growth and development.
It costs $11,000 per year to holistically help a child overcome homelessness.
Fill out the form below and become an important part of the lives of the 150 children who call the Transitional Living and Learning Center "home" each year.