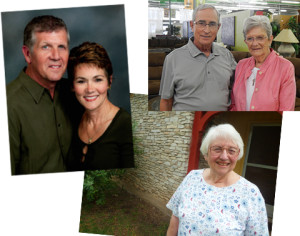 A Gift in Your Will: A simple but meaningful way to give
You may not feel wealthy, but you're comfortable and secure, and you would like to help organizations that help others. If this sounds like you, consider including a gift to SAMMinistries in your will, known as a bequest. In doing do, you help to ensure our mission will continue into the future.
---
Types of Bequests
A specific amount gives a stated sum (ex: $10,000) to the beneficiary you name.
Specific property gives a particular item (ex: car, home, stock holding) to the beneficiary you name.
A residual gift gives a percentage from 1 to 100 of what remains in your estate after other bequests, debts and taxes have been paid. This popular way of dividing your estate allows you to keep your gifts in proportion to your estate size.
A bequest to SAMMinistries qualifies for an estate tax charitable deduction and give you the satisfaction of helping the homeless and those at risk of becoming homeless in our community. Plus, when you make a gift in your will, you have the ability to revoke or update your intention at any time.
Next Steps
Contact Nikisha Baker at 210-321-5631 or [email protected] for additional information on planned giving or to chat more about the personal benefits of leaving a lasting legacy with SAMMinistries.
Seek the advice of your financial or legal advisor.
If you include SAMMinistries in your plans, please use our legal name and Federal Tax ID.
Legal Name: San Antonio Metropolitan Ministry, Inc.
Address: 1919 NW Loop 410, Suite 100, San Antonio, Texas 78213
Federal Tax ID Number: 74-2285793