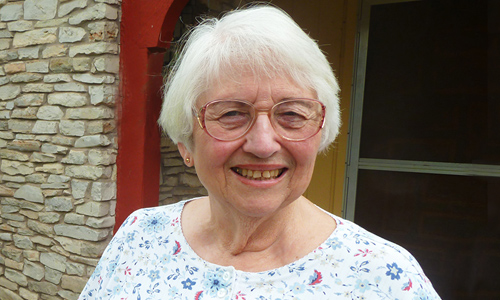 After 27 years traveling around the country with the United States Air Force as a Physical Therapist, Colonel Hannah Margolis settled into the first home she had ever owned in San Antonio.
Originally from Brooklyn, New York, Hannah describes how the Air Force brought her to San Antonio, and ten years later, she decided she didn't want to leave the Alamo city.
---
"There is a very beautiful inner feeling when you give."
---
As a newcomer to the city, Hannah began to volunteer with SAMMinistries in the 1980s, but she quickly decided that she wanted to give more to the Ministry than just her time.
"There are a lot of people who deserve opportunities; who are homeless through no fault of their own," said Hannah in explaining why she chose to give to SAMMinistries. Because of her passion for providing these opportunities, Hannah has been a consistent supporter and advocate to SAMM for many years.
Looking toward the future, Hannah decided that she could think of no better way to support the Ministry she loves and trusts than by helping others find a place to call home. For this reason, Hannah graciously listed SAMMinistries as the beneficiary of her house.
"I thought that this would be a good thing for both of us. That SAMM could enjoy the use of the house later, and that I would leave my family with no responsibilities in caring for the house," said Hannah.
In the future, SAMMinistries families will have the opportunity to start a new life in Hannah's home.  "There is a very beautiful inner feeling when you give like that, if you can give like that," said Hannah about giving her home to the Ministry. "This is SAMM's house now. I will keep it in good shape, and someday someone else will have the benefits that I have."