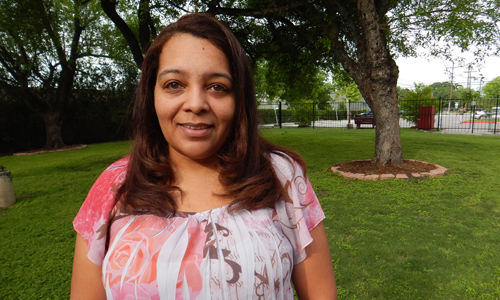 Last summer Angela was living in a comfortable apartment with a good job. As a single mother, she worked hard so that she was able to pay her rent and provide for her children. However,
 – in a moment everything changed.
In one week's time, Angela's rent was increased and she was demoted at her job, leaving her unable to afford rent. Angela was able to stay in the apartment with her children for a few months, depleting her savings until nothing was left. Unable to pay rent, Angela and her children moved in with family members, but it wasn't a permanent fix. "We were sleeping on floors. I needed my children to have a good night's rest," Angela recalls.
Angela turned to SAMMinistries and was admitted into our Transitional Housing program in October 2014. She and her children were given furniture so her children wouldn't have to sleep on the floor and jackets to keep warm during the cold weather. Angela began to attend life-skills classes on parenting, budgeting and exercise. "The classes have built my self-esteem, made me a better person, a better parent. These classes have given me the reassurance that I can improve," says Angela. She began to exercise on her own, which reduced stress and the budgeting class taught her when to spend and when to save, so that she could begin rebuilding her savings. "I am able to look at my budget and see that I can make it on my own."
---
"my children would ask … what are we eating tonight, where are we staying tonight?"
---
Within six months, Angela had improved her credit and saved enough money that she qualified for a grant to purchase a home. She closed on her new house at the end of April. Due to savvy budgeting Angela has been able to buy appliances and furniture with her savings and is ready to exit the program. Angela was also promoted at her job. Her supervisor was very impressed with her improved job performance. Angela credits that improvement to the support she received from SAMMinistries.
Angela's children have also benefitted from SAMMinistries support. Angela says, "Before coming to SAMMinistries my children would ask are you going to be able to pick me up from school, what are we eating tonight, where are we staying tonight? Now, they can focus on being children. They come home with no worries."
Because of your contributions –
in just a short period of time this family went from homelessness to achieving the dream of home ownership.
Angela shares our gratitude and says, "There is no way I would have been able to save the money I needed to save to purchase a home without SAMMinistries. This program sets you up to live a more prosperous life it helps increase your self-esteem and prepares you financially so you can walk out of these doors with your head held high knowing you're going to make it, and having the resources to make it."