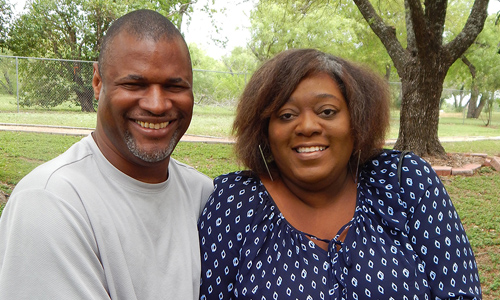 Originally from Texas, Felecia moved north to marry her husband Dirk and start a beautiful family together. For a while, they were living the American Dream—a house, three great kids and gainful employment. But then, the unexpected happened—starting a spiral that would leave their young family facing homelessness for years.
---
"SAMMinistries kept our family together and kept our kids in school."
---
It started with a house fire that destroyed nearly everything. The couple moved to Atlanta to start over because they both found employment. Felecia worked as a nurse and Dirk worked as a security guard. Slowly the family started to rebuild what they lost. But when the recession struck, they both ended up unemployed. At the same time, Dirk began losing his vision to macular degeneration. He became legally blind and the medical bills piled up until the unemployed couple had to file for bankruptcy.
When Felecia's mom became ill, the couple knew they needed to move back to Texas. They left Atlanta with only the things that fit into a carry-on suitcase and arrived in San Antonio at 11 p.m. at night, with no place to live.
The owner of a motel saw what a loving family they were and took pity on them. He allowed them to stay at the motel long-term as they began to look for work in the area. Five people. Ten bags. One room. "It was our 'hard-time place,'" Felecia said.
They heard about SAMMinistries, but assumed it was a typical homeless shelter that would separate the family. So they didn't reach out to SAMM until it was nearly too late.
"SAMM kept our family together and kept our kids in school," Felecia said.
Today, thanks to your support and SAMM's innovative programs—from housing for the disabled, debt reduction and financial classes to parenting classes—the family is together, and moving forward.
"SAMM is one of the best organizations out there," Dirk said. "It helps set positive goals to help people get back on their feet. It eliminates excuses."
---
"SAMMinistries eliminates excuses."
---
Felicia plans to restart her career as a nurse and Dirk is scheduled to get an operation on his eyes so he can go back to work. Their three children are excelling in school and their oldest daughter recently was awarded a college scholarship for an essay she wrote about facing homelessness.
Because of you, the Coulter family has found hope, and the tools necessary to build a brighter future.
"Go with your heart. If you have a heart to help people, then give to SAMM. They are doing great things," says Dirk, while smiling and holding his wife's hand.